Residential Design & Construction
Echo's residential design is eclectic in nature, balancing utility with comfort and beauty. We have no stylistic agenda for our work with clients, but simply strive to create architecture that best serves its inhabitants.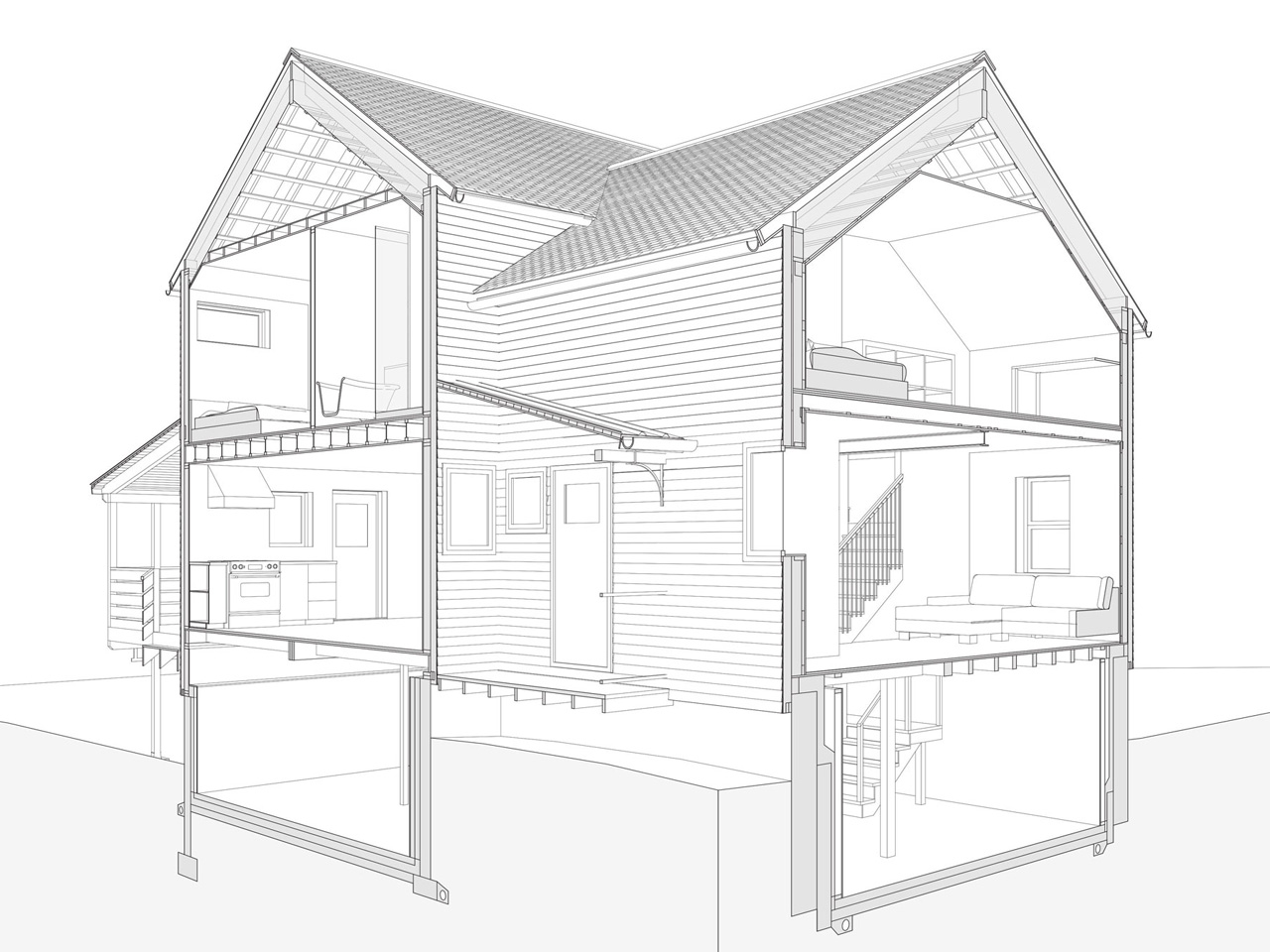 Know House
Features
Net-zero design

Use of Pattern Language principles

Custom metalwork
Collaborators
Design for this renovation and rehab of an early 1900's worker's cottage retains the home's historic quality and prioritizes responsible energy and resource use. New covered porches connect the interior spaces to the landscape, which is being cultivated into gardens and permaculture habitat. The home's shell is highly insulated and sealed for controlled air exchange and is heated using a high-efficiency, heat pump system.

Insulation materials, such as fiber-board and cellulose, were specifically selected for their carbon-neutral production cost. Lumber was salvaged from the house's deconstruction process and from a local demolished factory to create built-in furniture and flooring. We also hand-built decorative and structural steel elements at The Steel Yard, a Providence-based community art space.

Plunkie Point
Features
Age-in-place design

Custom built-in furniture

Collaborators
This lake house kitchen and bathroom modernization included numerous age-in-place improvements to make it more accessible for the clients' long-term use. Echo provided full architectural and construction services, which included custom cabinetry throughout. The design harmonizes the relationship between the old cottage and the newer addition. Fabrication followed sustainable design principles with a focus on material efficiency.
Many of Echo's residential projects are design-build, providing our clients with a single point-of-contact from design through construction. Our hands-on approach allows us to refine designs throughout the execution of a project and ensure a targeted level of craftsmanship. Design-build also expands our understanding of the mechanics of architecture and the building trades.
Contact
Providence
Brendan Rose

315-882-3561

118 North Main St. 2nd Floor

Providence, Rhode Island 02903

Syracuse
Zack Bloomer

315-460-5435

466 Westcott Street #2


Syracuse, New York 13210
︎
︎